MESSAGE FROM DR. SUBAL CH. DE, PRESIDENT GOVERNING BODY, NISTARINI COLLEGE, & CONTROLLER OF EXAMINATIONS, SKB UNIVERSITY, PURULIA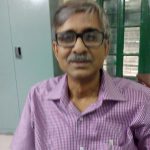 Nistarini College, affiliated to Sidho-Kanho-Birsha University, is a premier academic institution of undergraduate studies for women in the western part of West Bengal. Along with the academic enhancement, the College, which is situated in one of the most underdeveloped parts of the country, has made a remarkable contribution to women empowerment in general. I consider it a great privilege to be associated, in some way or the other, to this great institution for more than two decades, and it is more so now that I have the opportunity to contribute as President of the Governing Body, the administrative authority of the College. The responsibility has been further increased , as in the year 2016 the College has been awarded "A" grade in the assessment of NAAC, quite a rare distinction for an undergraduate college. The College was established by the great freedom fighters and the legacy of their ideology is being carried forward, I can vouch, by the Principal and staff of the College, in fulfilling its social and educational responsibility, through well-planned curriculum and outreach programmes. It is a matter of great aspiration and dream for the freshers seeking admission to this college, and a matter of pride and honour for the pass-out graduates.
The motto of this college is : Think globally, act locally.
I welcome all the students who will be admitted to this College and promise my help and co-operation in all their academic and extra-curricular endeavours.